To celebrate our 140th anniversary, we held a truck design competition, where everyone was invited to submit a unique truck design for a chance to be one of the lucky winners who got their designs on real, special anniversary trucks. Two designs have been chosen as winners, and they have now been revealed.
We have received 39 very creative design suggestions from all of Europe, and the jury (consisting of CEO Anne Kathrine Steenbjerge, Henrik Steenbjerge and Wilma Steenbjerge plus a number of Anco drivers.) have chosen the two winner designs.
The winner designs were revealed on our 140-anniversary party for ANCO employees taking place at Ryegaard & Trudsholm in Sealand, Denmark. The winning designs were presented by Wilma Steenbjerge, Anne Kathrine's daughter.
See video here
Winner #1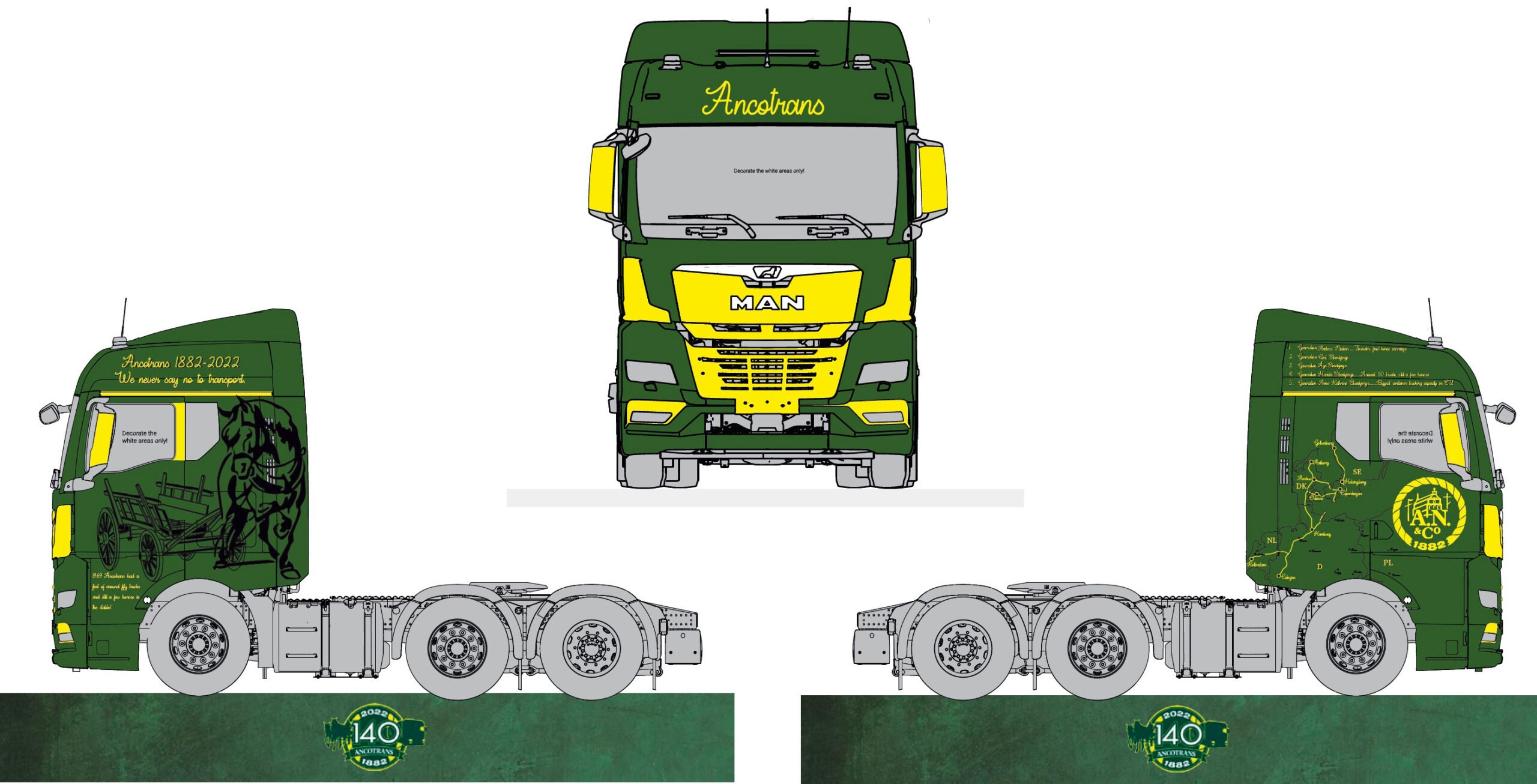 Jury comments
This design was chosen as one of the two winners because it clearly illustrates our long history and proud heritage. The horse and carriage depicted on one side shows where it all began way back in 1882, while the map on the other side shows how far we have come since then with offices throughout Northern Europe.
 The generational timeline also pays homage to the fact that we are still a truly family-owned company through five generations and 140 years – a fact that we are immensely proud of. All in all, the designer of this submission seems to really understand the Ancotrans history and tale over the past 140 years.
 This design was submitted by Samuel Vrábel from Slovakia.
Winner #2

Jury comments
The future is bright and green. And this design illustrates our journey towards a greener future for Ancotrans. It is our aim is to become 100% CO2 neutral in 2040, and by offsetting parts of our carbon footprint, we drive for a better climate every day.
We do this by planting a forest in Uganda, where we have planted 25,863 trees – and we have no intention of stopping anytime soon! In fact, as a part of our anniversary celebrations, we are also planting the very first ANCO forest in Denmark.
The original design was presented on a white background, but following a dialogue with the designer, this was changed to a green background to ensure high-quality printing on the truck. And overall, this winning design illustrates where Ancotrans is headed in the future.
This design was submitted by Matilde Grølsted from Denmark.
140 times thank you
Thanks to all of you who participated - for all your creative, funny and colorful designs for our anniversary trucks.
See all the incoming design suggestions in this PDF