For the past 140 years, our employees, customers, and partners have kept the wheels turning. THANK YOU!
We pledge to keep driving for a better climate and to provide reliable, international container transport solutions.
LET'S BE THANKFUL
We have so much to look back on and be proud of. From the humble beginning in Copenhagen with a horse and carriage – to being a market leader within container road transport in Northern Europe.
It all began with horse and carriage. In 1882 the founder, Anders Nielsen, offered horse powered transport of luggage to and from the ports of Copenhagen. Today, Ancotrans has grown into a market leader within container road and intermodal transports. With around 900 trucks and more than 2000 chassis in daily rotation throughout Europe, our more than 390 employees and 700 subcontractors keep the wheels turning and handle more than 350.000 yearly transports.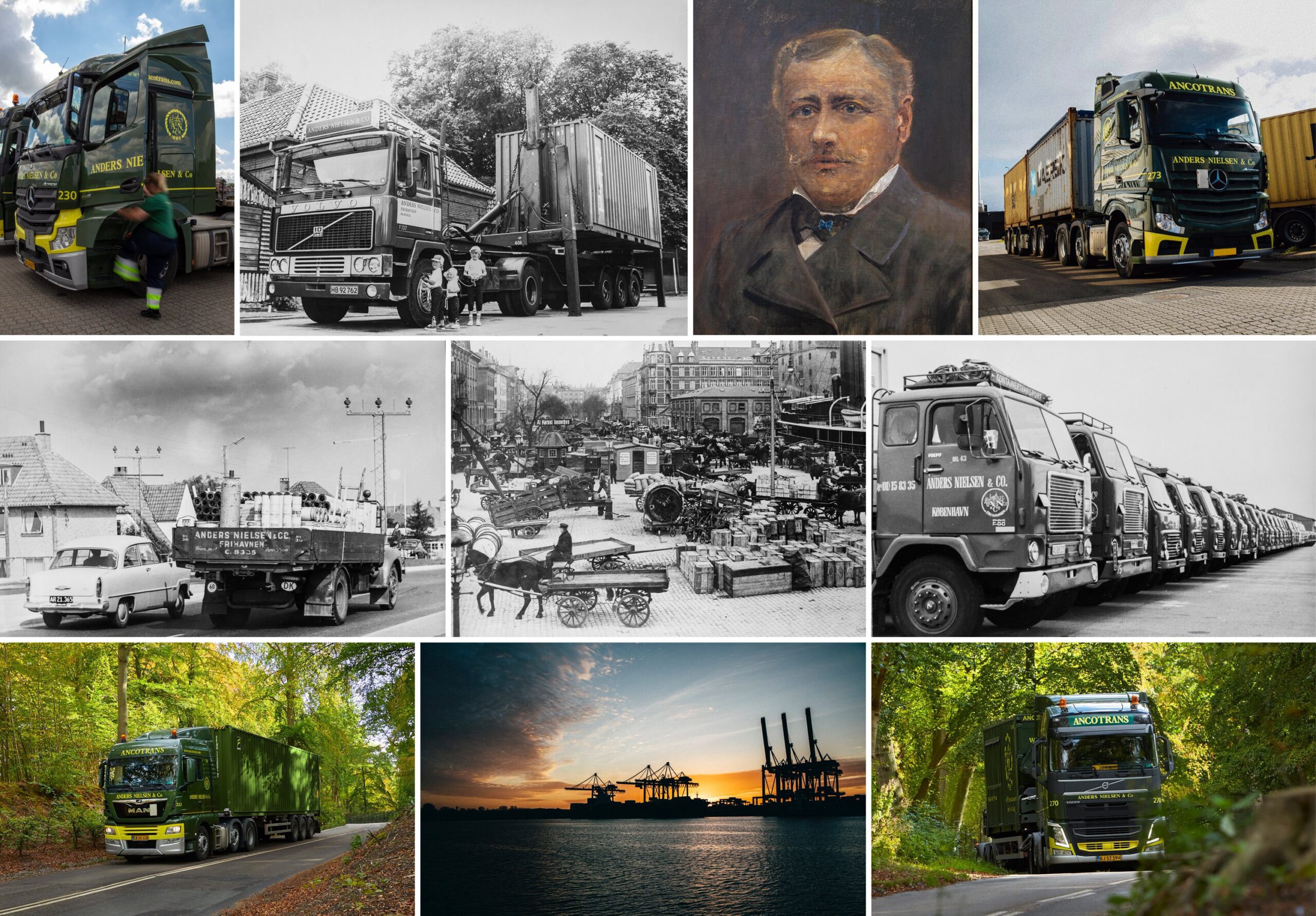 When Henrik Steenbjerge came into the company in 1969, Ancotrans had a fleet of around fifty trucks and still a few horses in the stable! The trucks transported everything from beer to asphalt. Henrik Steen­bjerge saw the global tendency towards container freight and in the 1970s decided to focus on this niche. In 1982 Anders Nielsen & Co/Ancotrans opened our first office in Aarhus. In 2003 Anne Kathrine Steenbjerge, 5th. generation, started in the company, and in 2008 we opened our first office outside Denmark; Ancotrans GmbH in Hamburg. Since then we have opened a number of offices to best serve our clients nationally as well as internationally in Sweden, Germany and The Netherlands.
LET'S KEEP GOING
The future is what we make it. And in Ancotrans we believe it is bright and green. Every day we thrive to make a difference for our customers, partners – and the planet.
"I am absolutely convinced that our Ancotrans values are the reason why we have been able to strive and survive as a company for centuries, and our values are still our green and yellow guiding stars on our future journey."
Anne Kathrine Steenbjerge, CEO.
But nothing would be possible without you! And we are sincerely thankful to all our customers, partners and employees who have all been a part of our history and the reason why we are still here today.